Below is an interview with one of the hardest
working Bizarrists in the world today. Although
he goes by the stage name Black Hart, he is
also known as Keith.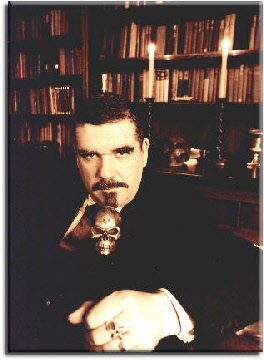 Me
Brother Hart thank you for taking valuable time out of your busy
performing schedule to answer a few questions for our readers.
Keith
I've been to your website http://www.blackhart.co.uk and
you've got quite an operation over in the U.K. How did it all begin?
Were you an entertainer of another sort and found yourself switching
tracks later or was this an out cropping of a magic career already in
motion?
My interest in Bizarre Magick (I don't really like pigeon holing my performance style) began before I'd ever heard of it. Since I was a young boy I've had an interest in the supernatural, you know, ghost hunting and all that sort of thing. I also had a desire to be the evil villain in films. I also love the theatre and 'live' performance of any sort, so my performance style was a natural development of my long time interests. I never found out about magic clubs and magic dealers until about 1990, when I was introduced to this 'secret' world by a friend.
I quickly discovered Eugene Burger, Maskylin ye Mage, Charles Cameron et al. It was a revelation to find that others were thinking along the same lines. This is when I discovered my true magical 'home'.
Me
Where did the other entertainers come from? Are they family members or
did you meet them along the way and add them to your bizarre menagerie?
Keith
The cast members on our books come from various sources. Some are family members, Natalia and Karenovich are my daughters. They both do fortune telling and graphology for me. Other cast members are 'readers' we have selected along the way. There are also other entertainers and actors who have been recruited. They all have to have the ability to be in 'character' for the whole evening. We have a pool of cast members we call on when needed.
Me
When did the magic bug bite? I have a reason I ask all my interviewees
this question. I want to see if there is hope for those of us that
started magic later in life.
Keith
Well as usual my first interest in magic began after I saw a magician at a children's party when I was about 9 years old. I went to the library and found a couple of books on magic. However as they mentioned things like faked cards and magic props and I had no money and no idea where to buy them I made a few of my own tricks (yes, they were tricks in those days).
As a teenager magic faded into the background and was not awakened until I was married with a young family when I did a few tricks (yes, still tricks then as I hadn't learned the REAL secret of magic) for them and their friends.
In the meantime my interest in the supernatural had developed and grown. Then when my children were young teenagers I was introduced to the world of magic clubs and I found out that there were others with similar interests. That allowed me to find the resources to develop my own performance style. I must say that I soon found out that my style was VERY different from the 'regular' magicians. I also found out that most of the stuff available from magic dealers was 1) rubbish and 2) not suitable for me. This was actually very good because it made me develop my own material. It also led me to start Black Artefacts as there was nowhere for people performing in my genre to buy stuff.
Me
Did you have a mentor in the beginning or did you go it alone?
Keith
Well, I was inspired by Eugene Burgers books, but most of what I read in Bizarre Magic books was unable to be performed in real life situations (another reason for Black Artefacts) it was pure fantasy. Once again this was good because it MADE me develop my own material, stuff that suited ME.
In the initial stages I had a lot of technical help from Keith Bennett (magic dealer here in the UK). Then Gordon Astley (radio broadcaster for the BBC and cabaret magician) joined my team. Gordon was great.
He watched all my performances, directed me, criticised me and gave me some great theatrical advice. Most important of all it was Gordon who helped me develop my current performing character.
Me
All bizarrists seem to have an impetus to there present state of
performing be it a certain author, movie, or person in general. What
was yours?
Keith
The voice of Black Hart and Vlad Hammer is based on the silent movie character (bear with me here), Nosferatu. It is the earliest vampire film remaining (there was one a couple of years before but there is no copy of the film). I based the voice on how I imagined Nosferatu would pronounce his own name.
The character is based on someone who would feel at home in a Hammer Horror film (hence the name). However my favourite film character must be Bella Lugosi as Count Dracula and much of the style of my character is based upon him.
Me
Did you have help with your change or did you go it alone?
Keith
I have researched my character extensively. I have based him on a Romanian from Transylvania (a province of Romania). I have travelled in Transylvania and studied the accent, the history and the geography. I always carry some Romanian money when I am performing as a touch of authenticity. My audiences really believe I am a Romanian.
Me
Berrow Court sounds like a very warm and inviting place (place and evil
grin here). I'd love to see more pictures of the place. Are there any
plans for a Black Hart spread of the mansion on your site?
Keith
Berrow Court is a great place, and it really is haunted. We get lots of enquiries from individuals who would like to stay there, however we only do corporate functions there due to the high cost of the evening. It starts at £2,500 (about $3,900) for 10 people.
Me
On your site you mention that Geoff and Jan Lewis bought Berrow Court and
refurbished it back to it's old Victorian splendour. It doesn't mention,
though, if they are still the owners and you and your staff are just
using the grounds for your shows or if you bought the place from them
and now you and your staff reside there as well. Could you comment?
Keith
We hire the house from Geoff and Jan. We have many other venues and shows so we don't only work at Berrow Court.
Me
Here's the question I'm dying to ask (no pun intended). Since you
perform in a haunted house and perform bizarre routines and seances do
things ever get out of hand? Could you give us a few recounts of
situations and seances that became completely "unscripted"?
Keith
Nothing has ever 'got out of hand' but we have had some strange things happen. We have had props moved when the room was empty and locked. One time I counted the number of people in the room for 'The Black Magick Theatre Show' (my one man show section of the evening) and there were 37 people in the room. There were only 36 guests and the extra person was certainly not a staff member!
Me
Your website holds many wonderful tomes, videos, and accoutrements for
the mentalists, seance workers, bizarrists, and readers (tarot, rune
stones, etc). Is there anything new in the works you'd like to tip your
hand to us at this time?
Keith
We have recently upgraded the website and we are also on the lookout for new items and effects. One of the things I enjoy most about what I do is developing new routines. My one criteria is that they should be PRACTICAL.
In the pipeline at the moment is a séance room effect with a story of an officer in the army in India during Victorian times. I've been working on this for about 12 months now. I've had some of the props especially made and I am hoping it will be ready in the next couple of months.
I also have a new effect with the working title 'Close to Death'. This should be out in the next couple of weeks.
People can keep bang up to date with our products by subscribing to our update service. We send out the occasional email informing customers of new items and effects. You can subscribe though our website: http://www.blackhart.co.uk
Me
Do you have any words of wisdom you'd like to impart to those just
starting out in this subculture niche of traditional magic?
Keith
Yes. The two most important things to remember are:
1) You must develop a character to perform in. This character must suit you. You can only develop your act and presentations when you know WHO your character is. Your ability to act is much more important than your ability to do a double lift!
2) The real secret of any magic is ENTERTAINMENT. Never forget this. You are there to ENTERTAIN people.
Me
Again, thank you for your time. We look forward to hearing back from
you in the future about plans, experiences, and projects.
Your Friend in Fright,
Doug Byrd
If you are interested in Black Hart's work and products you
can check out his website below.

Look for more interview pages to be added .

This site was produced using Netscape Composer and is best viewed
at 800x600 resolution.
BizarreMagick.com© 2002, 2003
No part of this site may be reproduced
without the express written consent of Tory Parker.