Below is an interview with the author of
Capricorian Tales and Curator of the
"Surnateum", a Natural Museum of the Supernatural.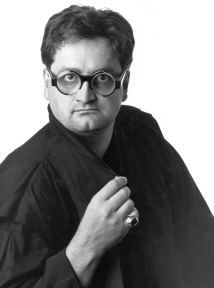 Me
Mr. Chelman,
Thank you for taking time out of your busy schedule to chat with us today.
When did the magic bug first bite?
Christian
At first, I didn't want to be a magician, but I was fascinated by James Bond
like character. I'd love to be a cheater. I dreamed that I could give any
poker hand from a shuffled deck; and eventually I can do that. It just took
me 20 years before I could master the technique.
Me
Did you start off doing the regular magic first and grow into the
bizarre or did you jump right into the dark side from the beginning?
Christian
I started as a close-up performer, and I still love close-up magic and
classical magic. I strongly believe that a good bizarrist should first be
an excellent classical magician. In fact, there are even venues were both
classical and bizarre/storytelling magic may be performed alltogether. My
"Magic Box" story/show is exactly that: I tell my own initiation in magic
and perform a very bizarre show for kids.
Me
What is the story behind your choosing the bizarre magick venue to
express your art form?
Christian
One day, I entered a kind of occult shop in Brussels and discovered two
voodoo dolls (black and white). I immediately thought that a "voodoo as I
do" routine should be more entertaining than a classical do-as-I-do.
Some time after, I bought an old Egyptian scarab. There was so much
emotional magic in that object that I dreamed to be the curator of a Museum
of Magical artifacts, one day. I always use the real thing for my magic.
That's how bizarre/occult and antiquarian magic came into my life.
Me
Did you have a mentor in the beginning or did you go it alone and
develop your own style?
Christian
I didn't have a mentor and created my own style. But I read anything I
could find and was especially fascinated by the Vernon and Slydini
approaches to magic.
Except the "Collector", but that's another story...
Me
Who were your main influences when you started in the bizarre magick
field (ie. who did you read or watch)?
Christian
Reading fantasy and fantastic books: like Tolkien's "Lord of the Rings" and
Malpertuis (by Jean Ray, a famous Belgian author). In fact, almost all the
classics (Frankenstein, Dracula...) I didn't know that other magicians were
involved in that approach. I believed in a kind of magic based on
Belgian/European traditions and mythologies. When I first met T.A.Waters,
he told me about Invocation and Tony Andruzzi. Later, I read the books of
Tony "Doc" Shiels and Punx. I have a deep admiration for Punx (Ludwig
Hanemann).
But what I did was extremely different.
Me
How do you come up with your effects and stories? Is there a certain
formulae that you use to produce your bizarre works of art?
Christian
Usually, I find an interesting object. I learn a maximum about it and try
to come up with a routine. During all those years, I created the
"Surnateum", a Natural Museum of the Supernatural, based on traditionnal
Cabinets of Wonders. Very close to a contemporary art approach of
Wunderkammern, (the Surnateum is dedicated to the memory of Adalgisa Lugli.)
(An English/american version is at work.) Close minded to m. Wilson's Museum
of Jurassic Technology in Los Angeles, but very different in the approach.
When I create a story, I hope that I have something intelligent and original
to tell about the subject.
Me
Who do you like in the field of bizarre magick today?
Christian
My favorite magicians nowadays is without any hesitation Ricky Jay and Harry
Potter. Think about that.
I also have a strong admiration for Imam and Mary Tomich.
Me
What words of wisdom would you pass on to those thinking about getting
into or just starting out in the field of bizarre magick?
Christian
Study your classical magic first. Bizarre magic is another way to thing
magic with another background.
And read Punx' books.
Me
There has been a lot of interest of late here in the states for your
Tarot Deck. Do you sell them direct and if so would you like to give a
plug for them here? Like do you accept credit card orders or just
international postal money orders? Can they be ordered over the
internet from you or do they need to send it to you by post (give
address if the latter is true)? And price for the Deck with english
instructions?
Christian
I don't sell those, but a magic shop in Belgium does. The "Lewis Magic
Shop" in Brussels. Their address is : 45 rue Van Artevelde Brussels
Belgium
Their phone number: 003225112407
Me
Do you have any other items coming out for the bizarrists in the near
future? Books? Videos? Effects?
Christian
Nothing special, we are working a lot on the Surnateum.
Some videos in English may be produced in a short future in Portugal.
Me
What's on the horizon for Christian Chelman? Any irons in the fire
you'd like to tell us about?
Christian
We are bringing the art of magic back in the museum, thanks to Ricky Jay for
showing us the way.
And the Surnateum is the most wonderful tool I ever created for Bizarre
Magic. You just have to guess how to use it.
Me
Mr. Chelman, I'd like to say thanks again for taking the time to answer
these questions and we look forward to having you around to haunt our
humble site for many years to come.
If you are interested in Christian Chelman's work you
can check out his Surnateum the Natural Museum of the
Supernatural.

Look for more interview pages to be added .

This site was produced using Netscape Composer and is best viewed
at 800x600 resolution.
BizarreMagick.com© 2002
No part of this site may be reproduced
without the express written consent of Tory Parker.