This is a site for performance art
Fire Products.
You must be 18 years of age or older to
order from this site.

Never be embarassed again by fire products that only
work some of the time!
Light it up with CONFIDENCE!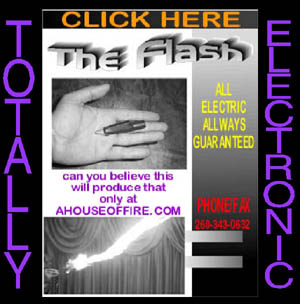 We sell top quality fire magic. So if your looking for some real fire magic, you're in the right spot.
IMPORTANT: All electronics on my products are guaranteed. My products use flashpaper/cotton or both. Never use flash powders or smoke. This will void guarantee.
All payments are received by Haslett's Enterprises. These pages are secure. Visa, Mastercard and American Express are accepted. We also have electronic checking available.
Postal orders are also accepted. Please send payment by money order in U.S. funds only, to address below.
RICK HASLETT
P.O. Box 5110
Kendallville,IN
46755 U.S.A.
SHIPPING INFORMATION
U.S.A. residents add $6 shipping
Indiana residents add 5% sales tax
FOREIGN ORDERS
add $12.00 to total purchase for shipping and handling.

This site was produced using Netscape Composer and is best viewed
at 800x600 resolution.
A House of Fire© 2002, 2003
No part of this site may be reproduced
without the express written consent of Rick Haslett.