The Gothic Tarot
78 Cards Illustrated by Joseph Varga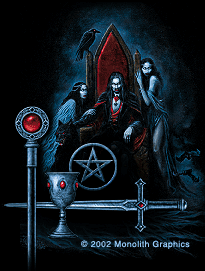 The first and best gothic tarot ever...
featuring gargoyles, vampires, ghosts
and dark angels, giving this ancient
oracle a unique Gothic flair. Each card
is rendered in full color with exquisite
detail on professional quality card stock.
Boxed set of 78 cards (size 3" x 5") with
detailed instruction booklet. Boxes are
individually shrink wrapped.
Below are just a few samples:

Wheel of Fortune

The Hanged Man

Death

The Devil

Knight of Cups

Ace of Cups

7 of Cups

8 of Cups

Queen of Pentacles

10 of Pentacles

3 of Pentacles

5 of Pentacles

4 of Wands

6 of Wands

8 of Wands

10 of Wands

Knight of Swords

10 of Swords

9 of Swords

5 of Swords
Registered copyright © 2003 Monolith Graphics. Artwork by Joseph Vargo.
The images displayed on this page may not be downloaded or reproduced.
Copyright infringers will be prosecuted.